It's that time of year again! The season for sales and discounts.
Christmas is all about celebrations, holidays, and presents, and Black Friday helps shoppers make the most of these times. Right after Thanksgiving comes Black Friday to kick start the holiday shopping.
Way before online shopping came into trend people would line up outside of stores on Black Friday. Well, the shopping pattern of people has drastically changed over the years. People began adopting online shopping modes to avoid the hassle of stepping out. Noticing this shopping behavior pattern, retailers took the business to online platforms also to catch up with new customers and their dynamic needs. This is a great time to implement black friday marketing strategies if you're taking your business online.
Here we'll discuss how businesses of all scales, be it brick and mortar or online store, can prepare for Black Friday sales.
Prepping for Black Friday 2022?
The clock is ticking! This year Black Friday 2022 sale will kick off on Friday, 25 November 2022, and Cyber Monday will be on Monday, 28 November 2022. It is expected that several brands and retailers will begin launching the sale weeks in advance. Back in 2021, Amazon launched its Black Friday sales a month early. Since the launch of the early Black Friday Deals on November 19, 2021, Amazon sales have increased by 62%. So get prepped and start early.
Holiday sales are approaching...
Don't freak out!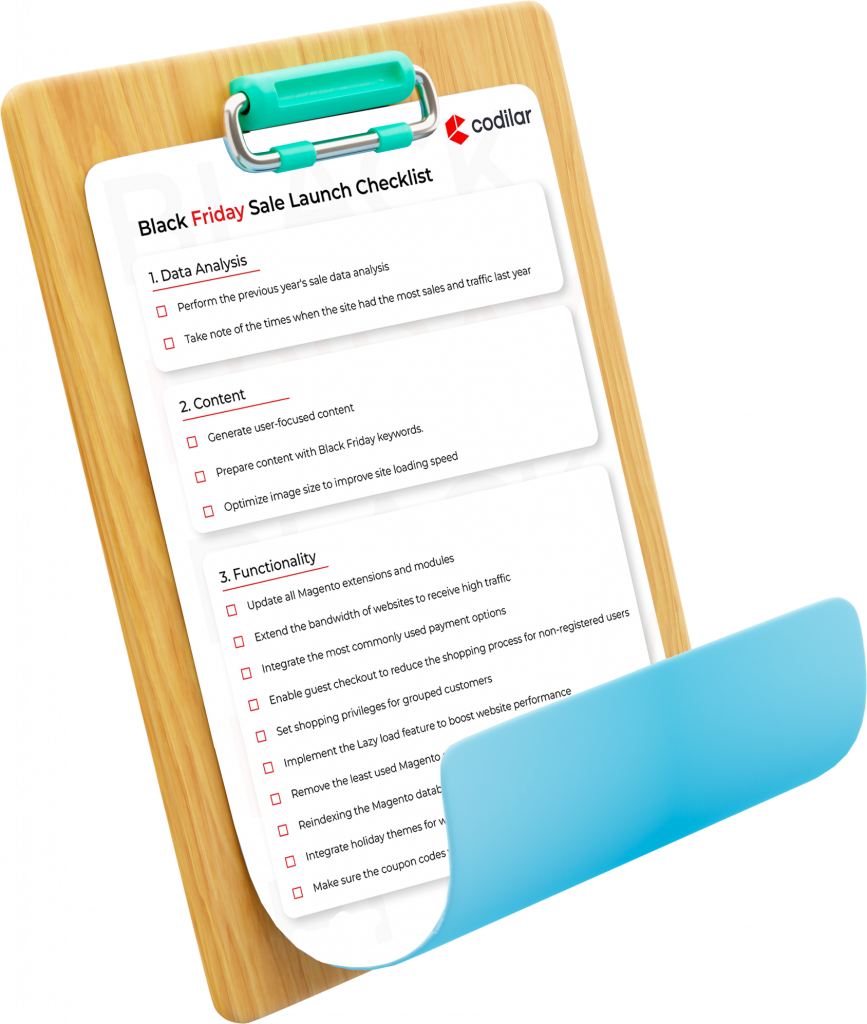 We've prepared a checklist that can help you get your store ready for Black Friday! Enter your email ID and we'll send you a free checklist.
11 Black Friday Marketing Strategies to try
You'll be one among the thousands who's choosing the black friday sales. So don't just launch the sale, you'll have to be prepared with different strategies to market your store during this big sale season to stand out. We've come up with 11 best marketing strategies you can adopt to get ready for the coming sale. Let's jump right into the marketing tips.
1.Launch early
"An early bird gets the worm" – let me start by jotting down the proverb. Waiting to launch the sale, on or just before the date will be a big NO. Begin your marketing efforts earlier and familiarize customers with your brand and the offers you are providing. Build anticipation for your Black Friday offers even before the big day. This establishes a sense of urgency right away. Additionally, customers are less likely to pass up your Black Friday deals.
2.Grow your email marketing list
As discussed in the previous point, start by creating a customized black friday email marketing list weeks before sale starts. Your email list is one of the most essential resources you have when it comes to Black Friday marketing . Make use of it to find the customers who will be most willing to purchase from you on Black Friday deals.
You can optimize your email marketing approach by planning and developing multiple email marketing campaigns specifically designed for your holiday promotions. Time-sensitive discounts are also a well-known focus of Black Friday and Cyber Monday. With intriguing subject lines that capture readers' attention and encourage them to open the email, your email campaigns should generate a feeling of urgency.
3.Utilize social media to the fullest
An effective marketing strategy to promote your Black Friday deals is through social media marketing. Advertise sales on social media platforms like Instagram, Facebook. For a wider audience, don't forget to use Black Friday hashtags. Work with influencers on social media. With their followers, influencers share a close relationship. They can help you in reaching a larger audience with your Black Friday promotions.
Brands may share interesting, top-notch content on social media that inspires people to buy products. You want to be producing educational material that is beneficial to your audience in addition to marketing blog articles via social media.
Leverage the social shopping feature
Generate user-oriented contents
Pre-schedule the Black Friday promotion posts
Collab with influencers
Use hashtags
4.Offer free shipping and spending rewards
During Black Friday sales, one of the finest methods to market your business is to offer free shipping, which you can limit for a certain period of time. Don't just settle for the usual discounts on Black Friday instead offer customers tempting perks like free shipping to draw them in.
5.Entice customers with loyalty programs
This is your chance to convert your visitors to regular customers. Engage your customers with loyalty programmes by offering exclusive discounts and gifts for each dollar they spend. A loyalty program will encourage them to keep shopping and also help you engage customers even after the holiday sales end. Other than offering great offers and discounts, create a trustful relation with your customers.
6.Extend sale till Cyber Monday
Cyber Monday was introduced in mid-2000 for online shoppers. It has grown to be a hugely popular shopping day, particularly for online products. Black Friday and Cyber Monday are four days that can be taken advantage of. This means you'll have sales and offers running from Black Friday through Cyber Monday.
Customers expect to score incredible discounts on Black Friday, one day out of a long holiday weekend. For each of the five days of Cyber Week, such as Small Business Saturday and Cyber Monday, you should plan your approach and develop a marketing strategy. During a long holiday weekend, Black Friday is just one day when customers expect deals to be plentiful.
7.Assist customers via Chatbots
Customers come up with more queries than usual. Your business can suffer a great deal if you fail to reply or miss out on any of them. An easy solution is to install a chatbot on your website. A good customer support system can increase the conversion rate and can improve the retention rate as well.
The chatbot can respond to simple FAQs, and if customer support assistance is required, they may intervene and take over the chat. The repetitive tasks that are burdening your team can be reduced with this approach, freeing them up to focus on more significant problems.
8.Follow up even after sale
It's wonderful to sell a ton of products on Black Friday. However, with time, a customer's value to your brand increases. Those one-time buyers can be converted into devoted, lifelong clients. According to a Shopify survey, holidays like Black Friday are when customers' lifetime values are at their lowest. It revealed that customers acquired on Black Friday or Cyber Monday for a staggering 64% of merchants had a lower lifetime value than customers who are recruited at any other period of the year.
9.Focus on cart abandoned rates
Do you recall a time when you abandoned a cart during online shopping because you were interrupted by a pop-up? It can be very irritating to receive pop-ups about shopping intentions or a discount code. Pop-ups are designed to draw customer attention and reduce the percentage of abandoned carts. Allow customers to express their desires or a motivation to finish their purchases. Your cart abandonment rate will gradually drop.
10.Try different sale every hour
Running a new sale every hour could be a thrilling, fast-paced concept if you have a large following. That would be 24 different sales on Black Friday for each hour from midnight. Despite the products being unavailable until a certain time, they could potentially be a huge success.
11.Work on your Website
Be it a startup or an established enterprise, while creating an ecommerce website there are many aspects to think about initially. From design, to accessibility of each feature in your website. Taking care of each of these aspects can improve customer experience, providing a seamless shopping experience.
Get your customers into a holiday shopping mood, by choosing a temporary theme or style for your eCommerce website during these sales. Make sure that the design complements the business' branding to prevent visitors from feeling alienated. Need help with Magento eCommerce development services? Click here to schedule a FREE consultation with us.
In spite of sales expansion to other nations, Black Friday sales are much more popular in the US than anywhere else. According to a study conducted by Satista the number of mobile searches on Black Friday in the US is estimated to be 21.2% of all searches.
Black Friday VS Cyber Monday: Which is a bigger deal?
What exactly is Black Friday? When does it begin? How long does the sale last? What's the difference between Black Friday and Cyber Monday? A ton of questions like these may rise in your mind, right?
The holiday seasons are the time where people shop the most. This is the best chance for retailers to win new potential customers, improve the profit margins and also boost conversion rate. Black Friday is the holiday shopping event that takes place in November, just after Thanksgiving in America. The term "Black Friday" was suggested to be changed to "Big Friday". Well the idea of Black Friday is not new. It has been around since at least the 1960s, but it started to gain popularity in the 1980s.
The sale was initially only held on the Friday just after Thanksgiving. Retailers subsequently extended the deal through Cyber Monday after noticing the significant shift in shoppers' purchasing patterns. This allows the sale to continue for almost straight 4 days. However, Black Friday has managed to endure and remains the busiest shopping day of the year.
Insights of Black Friday Sale:
New customer acquisition
Major improvement in sales
Clear stocks before Christmas season
Online traffic increases upto 220% than normal sale day.
Maintain strong connection with old customers
Improve brand awareness
In simpler words Black Friday is an online or in-store shopping sale that happens just after Thanksgiving. And Cyber Monday as its name says – 'Cyber', it takes place only on an online platform that happens just after Black Friday.
Although Cyber Monday is a pretty new trend, it has consistently risen year after year and is about to surpass the historic Black Friday event, which has been around for decades. People prefer online shopping today as it eliminates the hassle of stepping outside and also allows customers to return and ship items. And so, the ideal time for retailers to take advantage of the holiday sales is on Cyber Monday.
Briefing up
The busiest shopping period of the year is arriving and shoppers are awaiting to fill up their carts with discounts and offers. As the big holiday season approaches, all retailers from small local businesses to retailers like Amazon, Walmart, and Target gear up with new ideas. A little prep in advance can bring you into the same line and may gain some immense sales and new customers this holiday season.
Shoppers expect impressive deals every year, and this year will be no different. The only thing that has changed over the years is that customers have moved to online platforms. Taking this into account, if you play your cards right your holiday sales could be more than you ever thought possible.
So is your store ready for the Black Friday Sale?